Five on Friday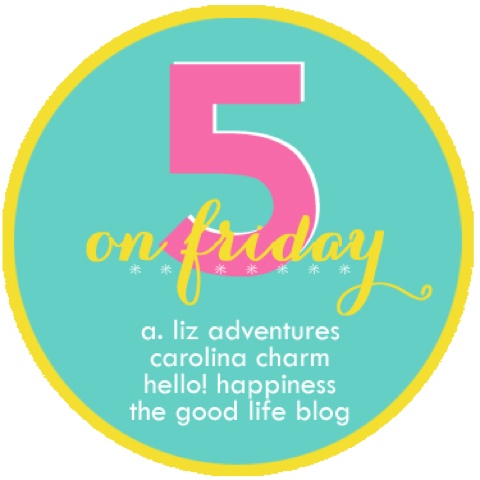 Yay! We made it through another week. This was my first full week of classes but I'm already exhausted. AH, it's going to be a long semester. Anyway, it's the weekend!! I'll be at work most of the time but it's my dad's birthday, this Sunday, so I'm excited about that. Happy Friday guys!! I decided to join in on the linkup fun and share some of the things I've had on my mind this week.
[ONE] H&M Haul + Nikes
I ordered a bunch of clothes from H&M's labor day sale and they finally came in.  I'm really excited about fall weather and dressing in layers and boots. I got about nine things including cute brown boots all for under $100-my idea of a good deal! Did you know H&M doesn't carry size 9 shoes? Weird, right? Apparently, the size doesn't translate from the European sizes so they just skipped it. I got a 8.5 and they fit so I guess I can forgive them for not having my actual size.
I was in a big shopping mood this week. I stopped into Nordstrom the other day 'cause I had nothing better to do and found  a pair of Lunaracer 3's in the blue/purple. They kind of hurt my achilles tendon while I walk but they're so cute, I'll just get longer socks. I wish I could wear workout clothes and get the benefits of actually working out. I probably won't really exercise in these, they're just to look cute in.
[TWO] THE MINDY PROJECT IS BACK
I was genuinely distraught when I found out Fox didn't renew their contract but I practically threw a party when Hulu saved the day. The first episode is so good! Mindy's alternate reality is hilarious and Morgan shows off his Hindi skills. If you haven't watched it get Hulu because Mindy makes it worth it. I was kind of hoping they took the OITNB route and put the whole season out at once but I wouldn't want to wait a whole year for more episodes so I'm glad they took the weekly route. I've been meaning to pick up a copy of her new book, Why Not Me, my review on the first one is here.
[THREE] Netflix and Chill has been ruined by the internet
Scrolling through Elite Daily I realized just how bad it's gotten. It's a problem because now you have to make it exclusively clear if you simply want company while you watch a movie and finish an entire pizza pie (or two, just kidding one's my limit). Some people still like binge watching a TV series and can keep their hands to themselves while doing so, try it.
Read more about the Netflix & Chill woes here and here too.
[FOUR] Eggplant Lasagna
I made eggplant lasagna for dinner on Wednesday and it's definitely one of my new favorites. Picture lasagna as you know it but without noodles. It's delicious without the extra carbs. I'll share a recipe soon!
[FIVE] My Day Designer
I've never been the planner type. I write post it notes for quick reminders and sync events on Google Calendar but I found the Day Designer at Target for $15 and jumped on it. I use it everyday now. It makes me feel crappy sometimes, especially when I look at the big "GYM" I had written for 8pm and realize I was eating cookies instead. It's about accountability though, I feel so guilty I'm dragging myself to the gym first thing in the morning. I have a new workout plan I'll share with you guys too.
Shared in the Five on Friday Linkup and this Linkup